Year 6 — Spinosaurus and Diplodocus
Class teachers
Mr. Mike Pennington (Spinosaurus) and Mr. Nik Larcombe (Diplodocus)
Learning Support Assistants and 1:1s
Phase Leader and Deputy Head
Mr. Mike Pennington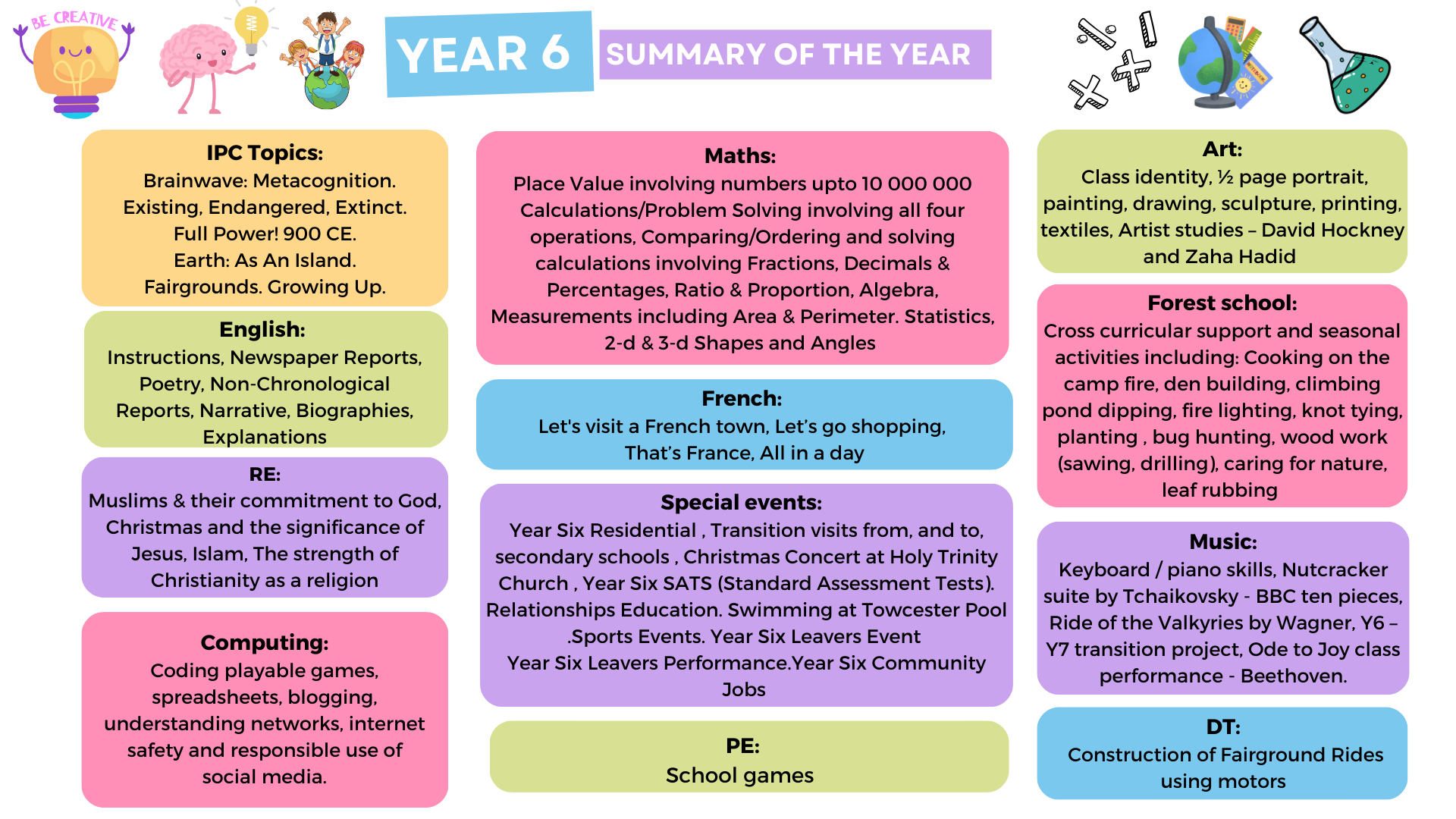 Term 1 overview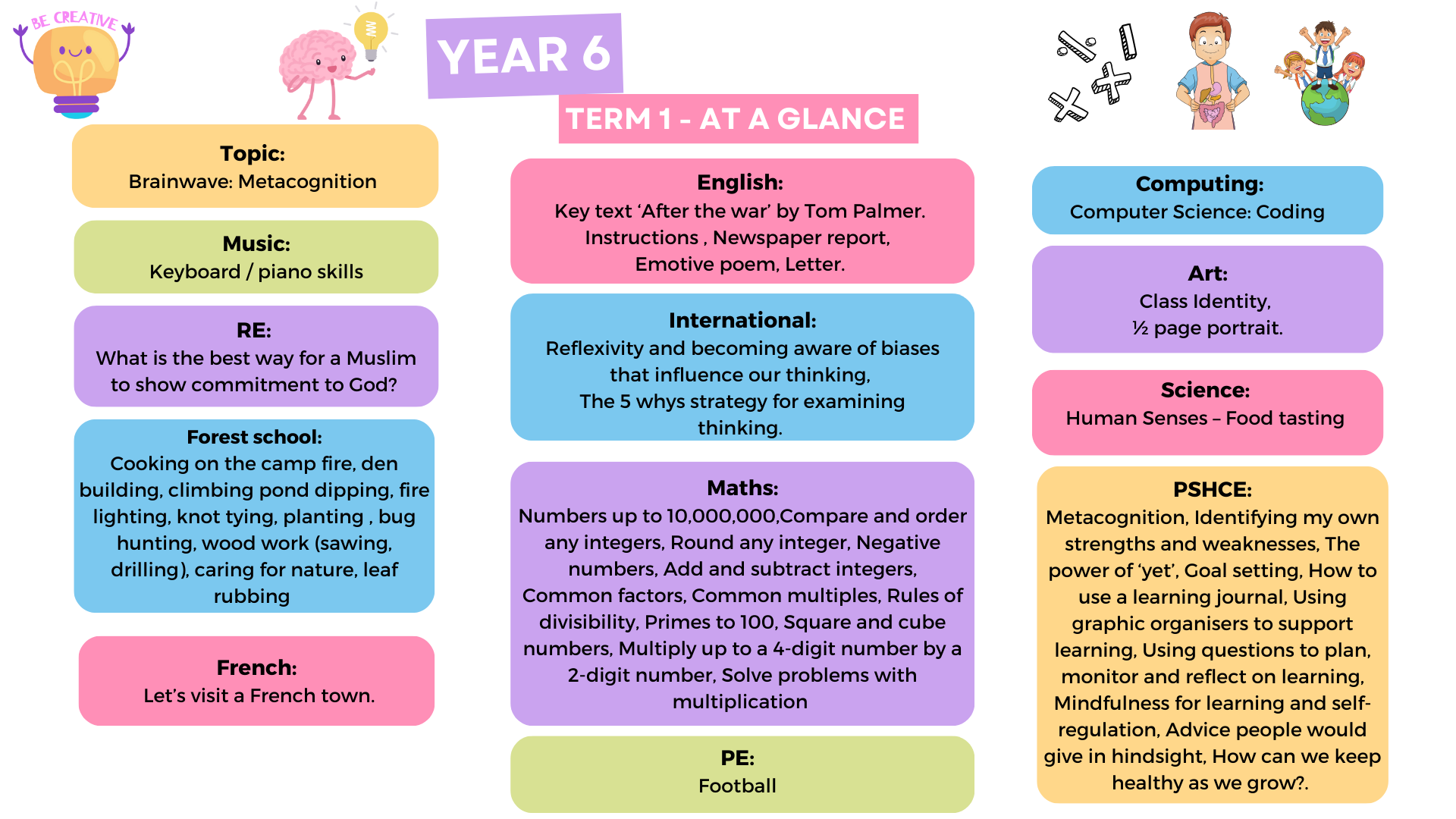 Term 2 overview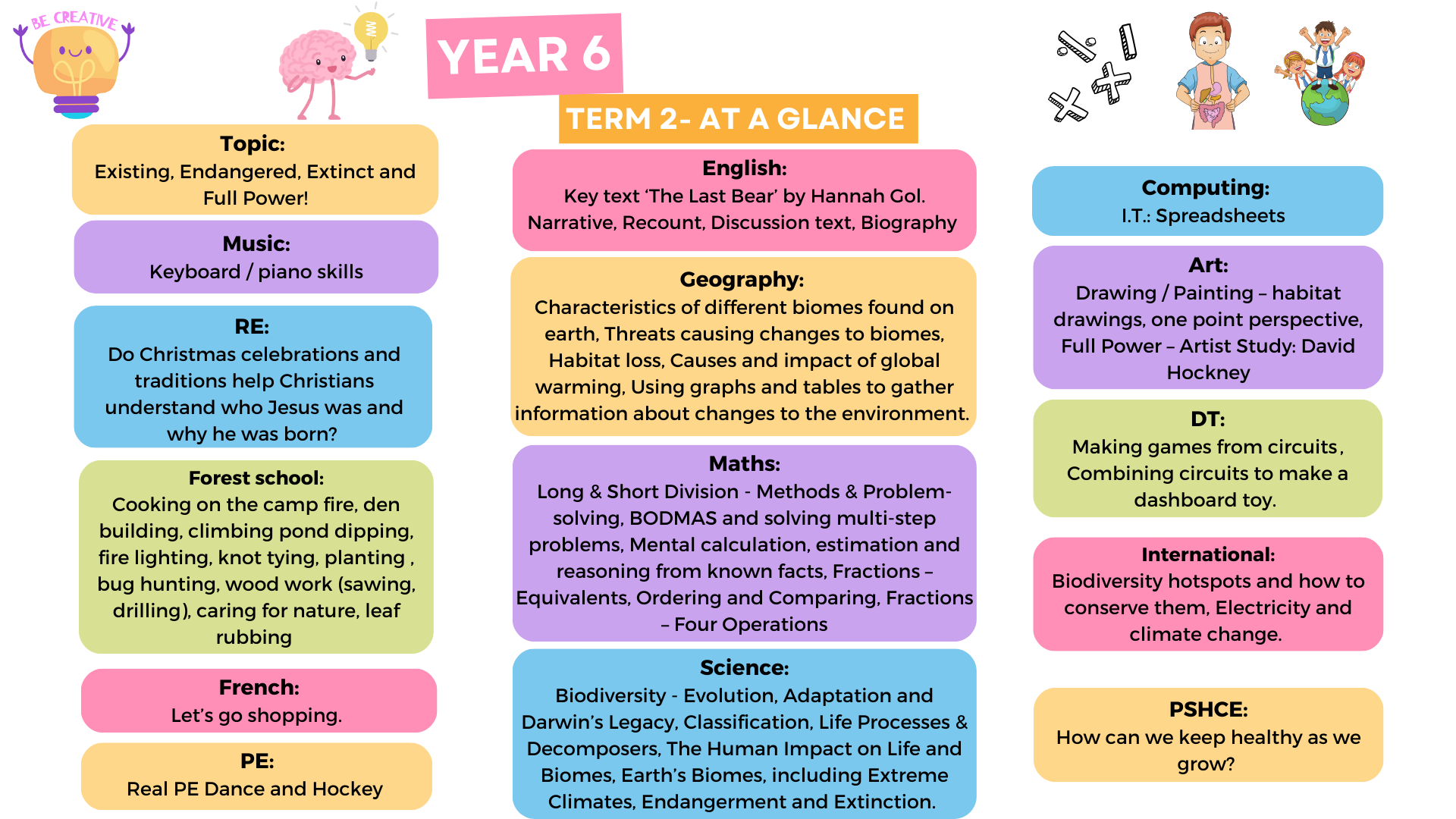 Term 3 overview

Coming soon
Term 4 overview

Coming soon
Term 5 overview

Coming soon
Term 6 overview

Coming soon
30th October 2023
Welcome back from the Year 6 Team!

We hope you had a lovely break and a well-deserved rest. We have another busy term ahead filled with wonderful learning opportunities, special events and so on.

We must say a huge 'thank you' and 'well done' to the Year 6 children. As well as taking on the responsibilities of Year 6 (setting a good example, taking on roles/duties,) these intrepid young people amazed us on the residential trip at Adventure 4 You with their skills, determination and resilience. The children have explained to us how they surprised themselves by beating the challenges of climbing, archery, paddle boarding (and more!) They loved sharing time and space with their friends and they were an absolute credit to you, their families. The centre staff shared that our young people had wonderful manners and a superb approach to the activities. We are very proud of them all, and we're sure you are too.

Additionally, last term, both classes worked hard during their assessment week, created interactive Powerpoint quizzes, drafted detailed studies of metacognition and the human brain (which were also lovely to look at,) developed persuasive leaflets about Adventure 4 You, solved problems with numbers up to 10,000000, wrote poems for an anthology, began their in-school swimming lessons and much more! A fantastic start to a very important year.

Despite some variations caused by assessment week and the residential, our homework routine will move forward as we explained at Parents Evening.
We will continue to set MyMaths and SPaG every Friday. Children must also read every day, with a note of the pages they have read recorded in their Home/School Diary. Please sign this to confirm that the children have been reading. Children should aim to use TT Rockstars as often as possible too. If anyone still needs login details for this, please let us know.
Our spelling system is currently under review – we are looking at ways to enhance what we provide and build on the success of our current practice. We'll have news about this in the next few days. In the meantime, the children can use their planners to look at the Statutory Year 5/6 spelling words – a great opportunity to get familiar with them.

In English we are going to be finishing our current novel - Skellig, then reading 'The Last Bear' by Hannah Gold. This links perfectly to our new IPC unit of work, 'Existing, Endangered, Extinct,' which covers the concepts of adaptation to the environment and conservation of the Earth's biomes.

Speaking of the IPC topic… we get fully scientific this term, looking at the features and classification of living organisms, how they are adapted to the biomes they inhabit, and the dangers life on Earth faces from global warming. Following this, our unit is 'Full Power!' about energy and electricity.
Look out for our Remembrance Day art, news about some upcoming 'booster' sessions to help support learning in Year 6 and a challenge we're going to be launching with the children.

There's lots to think about in the coming weeks – but please remember to keep in touch. If there's anything we can help with, we are always here to support you.

In the meantime, we wish you a happy term!

Regards, from The Year 6 Team