PTA
Deanshanger Primary School has an extremely active and supportive Parent and Teacher Association (PTA). They meet regularly to discuss and organise fun and exciting activities for the children and parents to enjoy at the school. They also raise funds to provide special events and extra resources for the school. Each year the PTA arranges numerous activities for the children such as colour runs, magic shows and discos, a quiz night for parents and in June 2018, we even had a circus!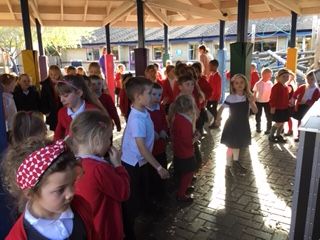 Outside discos - October 2021
I think it would be fair to say that the children had fun!


In non COVID times, the annual Christmas and Summer Bazaars have been very well attended by the extended school community and in return raise large amounts for the school. In the last few years the PTA have funded two wooden bandas on the field for play/shade, a safety surface for play equipment, upgrades in the library, a laptop trolley, hall curtains, new reading books, kindles, interactive whiteboards, funded an author visit ( Tom Palmer), provided a brand new KS1 courtyard play area, given £12,000 for the kitchen project, a reading book for each and every child in the school at Christmas and a lot more!
If you would like to become actively involved with the PTA or volunteer your help at any of our events, please contact the school office, where your details will be passed to Elaine York – Chairperson of the PTA and Jennie Harris - Vice-Chair of the PTA. New members and ideas are always gratefully received.