Leading Parent Partnership Award (LPPA)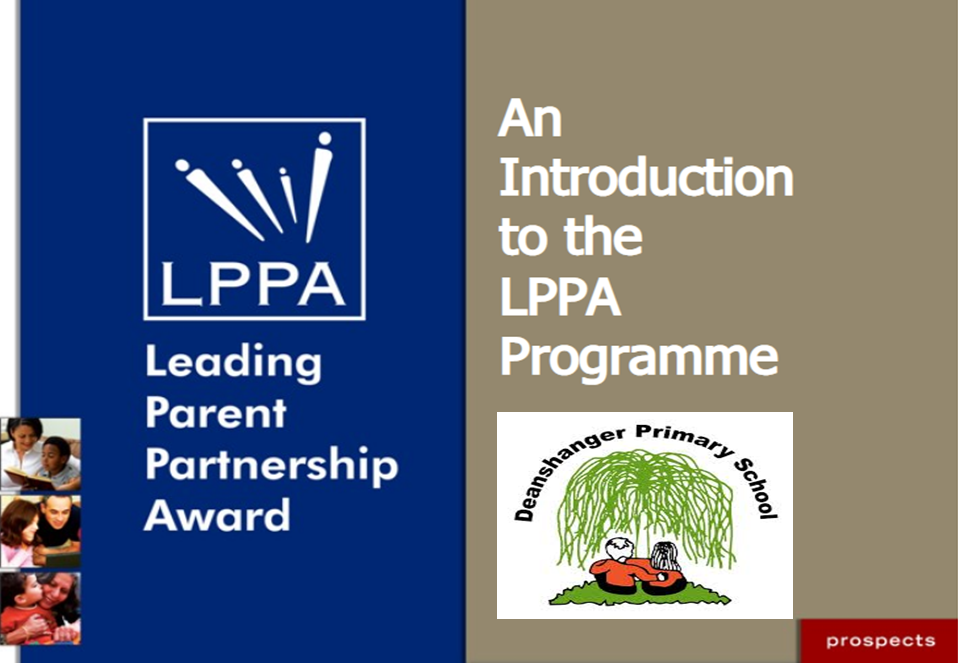 During this academic year, 2018-19 & 2019-21 Deanshanger Primary School will be working towards achieving the Leading Parent Partnership Award.
We are using the LPPA to help strengthen our school's partnership with parents. LPPA is a national award that will provide us with a valuable school improvement tool and also give us the recognition of our commitment to working with parents.
The LPPA will help us with these long-term benefits:
contribute to improved pupil attendance, punctuality, behaviour and progress;
increase parent participation and involvement;
enhance parents' support in their children's learning;
improve communication between home and school.
Research has identified that increased parental involvement in a child's education can raise achievement by 18%.
We are currently part way through our LPPA journey at DPS. If you would like to become involved or would like more information, please contact the school office or send an email. Coming along to our Parent Action Group (PAG) meetings will be a great way of getting involved too.
Progress so far
We had our initial visit from the school's LPPA Adviser back in October 2018 and, from this, we agreed on a plan for achieving the Leading Parent Partnership Award within 12 months. As part of our work towards achieving the award, we will be working closely with parents to forge even stronger home-school links.
The new Parent Partnership Policy is attached below and is also on our policy page.
Our successes involving parents this year have been:
An active PAG - Parent Action Group;
Review of Calculation Policy to ensure it is parent friendly;
Very strong support of Tapestry (online learning journal) in Fs and Y1;
Regular attendance for reading mornings;
Improvements in the admin area of the school ;
Strong use of home/school diaries to communicate home learning and other information;
Great support for PTA and school events - 'This is Me' attendance was brilliant;
Well attended class assemblies and special school events such as sport's days, Mother's Day and Father's Day;
High attendance at parent / teacher meetings;
Much appreciated support for our kitchen fundraising project and lots of other charity days;
A growing sign up to follow us on twitter - @DeanshangerS;
High return on our annual parent survey;
A new-look newsletter (based on parent/carer feedback);
A communication screen in the front office sharing special events;
New Twitter Page with over 120 followers
Dairy Den Video Messages to parents
DPS Home Tours during Covid 19 to connect parents and children with school.
Moving to Arbor from ParentMail.
We look forward to building upon these and 'other' areas further in the year ahead and as always, encourage you to openly communicate your comments, concerns and ideas.
If you can't find the information that you need on this website, please let us know.
To access our leaflet containing useful information for parents new to our school, please click here
For information from the Department for Education on the school's current data and performance, please click here and look on the 'Results' drop down on the 'Key Information & Safeguarding' section.
To find your nearest job centre easily, as part of the 'Job Centre Near me' scheme, click here.
To find out more about the local food bank (in Towcester), click here.