World Book Day and Half Term Preparation ​​​​​​​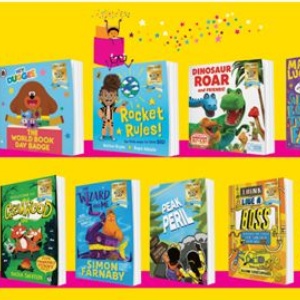 World Book Day this year is on Thursday 3rd March. This year is a very special celebration as it marks 25 years of World Book Day! Please read below as we have lots of exciting things to share!

https://www.worldbookday.com/books
World Book Day's mission is to change lives through a love of books and shared reading. They promote and encourage 'Reading for Pleasure' and offer every child and young person from 0 to 18 the opportunity to have a book of their own. Every child in the school will receive a £1 book voucher and this can be used to buy one of the World Book Day £1 books. These are available to buy in supermarkets and on Amazon.
We know that Reading for Pleasure is the single most important indicator of a child's future success. World Book Day's aim is to encourage children, families, and schools to adopt the reading habits that will improve life chances and build new generations of readers.
They have found 6 elements to support a child to read for pleasure. They are:
Being read to regularly – has a significant impact on a child's willingness to engage with books.
Access to books at home
The ability for children to choose what they want to read
Having trusted adults and peers sharing and recommending books
The reading experience being enjoyable
Designated time to read
These 6 elements shape and guide everything World Book Day does. They also support our work in school to ensure every child is a reader!
As a school we will be celebrating this very special day. Over half term, and in preparation for the day, we would like you and your child to make a costume for World Book Day. This costume could be based on a character or idea for a book. If possible, we would like this to be made from recyclable materials.
At the end of the school day, at 2:50 pm, we will be inviting parents/carers to enjoy our catwalk of famous book characters and award prizes for our best homemade cat walk costumes! Go to: https://www.worldbookday.com/dressing-up-ideas for ideas about costumes you can make.
Additionally, as part of the Book Day celebrations, we are hoping to talk with an author, listen to stories, sing the Book Day song, take part in live lessons involving authors and participate in a variety of book activities.
For this month we will also be promoting our Book Club. For every book you purchase, you raise funds for our school library.
Our new Scholastic Book Club is up and running! Go to https://schools.scholastic.co.uk/deanshanger/digital-book-club to browse the latest books and order online. For every £1 you spend on this month's Book Club, our school will earn 20p in Scholastic Rewards.
Please place your order online by March 11th, 2022.