DPS presents 'Room on a Broom' - 22-10-20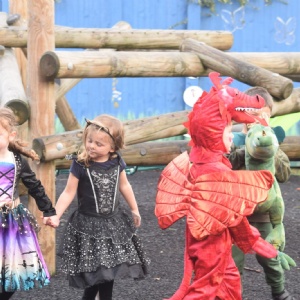 At DPS we have 'Room on a Broom' dress up. The children are enjoying a fun packed day with activities and a picnic with their classes.
Check out the full Gallery on the button below:
Room on a Broom - Gallery 22-10-20
Jump on board the broom with the witch and her cat in Tall Stories. The best-selling picture book by Julia Donaldson and Axel Scheffler.
Live Video Feed with Foundation stage children:)
The witch and her cat are travelling on their broomstick when they pick up some hitch-hikers – a friendly dog, a beautiful green bird and a frantic frog. But this broomstick's not meant for five and – CRACK – it snaps in two... just as the hungry dragon appears!