Sports Report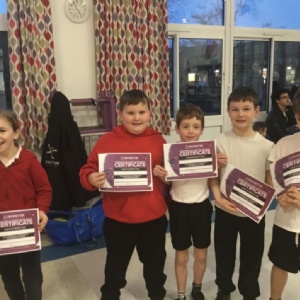 On Wednesday 29th January 2020, four Year 4 children, Kimberly, Devon, Jay and Lewis and one Year 5 child, Nathan took part in an Archery competition at Deanshanger Primary School.
We were all very excited to participate in the Archery competition.
The first part of the archery tournament consisted of firing arrows and getting them to land in a hoop. Each arrow that landed inside a hoop scored one point.
In the second part of the Archery tournament we had to fire arrows at the target. Every arrow that hit the target scored one point.
There were 7 teams in total that we competed against and due to our hard work, skills and resilience we came 4th!
We had lots of fun and are very proud of ourselves.