Year 2 - Art & Buildings / 19-01-23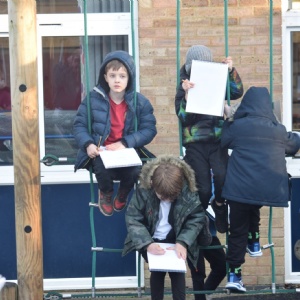 It's a fun activity for our year 2 students this afternoon. They braved the cold and were looking at patterns, lines and shapes when looking at the school building. I'm excited to see their lovely artwork.
It's incredible to think that some of our building has been standing since way back in 1859. The brickwork and architecture are unique to our primary school and its brilliant that our children can use their surrounding to work outside.
Below are some pictures taken of the children working hard on identifying some shapes, lines and patterns. As you can see they have all identified their very own vantage point, so they can sketch out what they see.