Arbor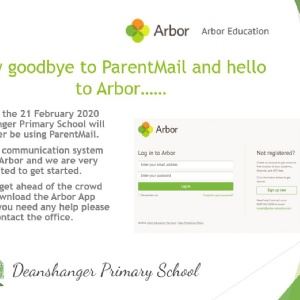 In the past week the school have been working hard on making the transition from parent mail to Arbor. So far this has been fairly easy to sign up with a few problems resolved around logining in for the first time.
It's been a busy week with all the movement between our two communication systems. The good news, thanks to Mrs Godwin, we feel we are ready for the change in communication tools. We still have ParentMail for a few weeks, however we will be slowly moving everything across.
Thankfully we all understand the importance of clear and effective communication between the school and its parents/carers. The announcement of moving away from ParentMail didn't really seem to worry too many people and the introduction of a Application like Arbor we feel will greatly benefit us all. Below we have listed some key features that can been used to enhance your interactions with DPS.
Features ready to use!
Take a look at your child's key attendance information, including their average attendance for the year so far
Edit contact details for your child such as your home address or phone number
Register your child for an upcoming school trip
Manage your child's payment accounts and pay for meals or trips directly
Book slots at parent/guardian consultation
Add new medical information about your child
Possible information we could share through Arbor in the future!
Register your child for an after-school club
Take a look at your child's behaviour information, including positive & negative behaviour points awarded this year.
Check upcoming homework assignments
Having trouble? Please reach out directly to the school office for help. We can check email addresses and ensure you can benefit from the all the things Arbor has to offer.
Any questions please email office@deanshanger.northants.sch.uk or call us on 01908 268920
Thanks for reading
The Office Team